Join us
We are looking for PhD, Master and Bachelor students interested in the field of theoretical soft matter and bio physics. For further information, please contact Roland Netz.
Future Research Topics:
Structure and Interactions of Bio-Membranes
Structure and Interactions of Bio-Membranes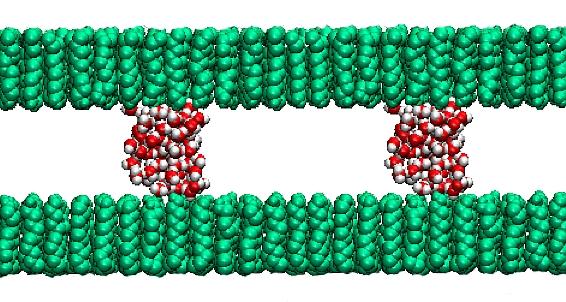 One subject of interest in our group concerns the modeling of the structure and the interaction of biological membranes immersed in water. In particular, we are interested in the interactions between membranes at nanometer separations where the presence of the hydration water becomes important. One technical problem which we solved (E. Schneck et al. PNAS 109, 14405-9 (2012)) is to keep the chemical potential of the water molecules constant for different membrane separations. By using Molecular Dynamics we investigate the influence of the lipid head group structure, the fluidity of the membranes, dissolved ions, membrane shearing, etc. In the case when the membranes exhibit hydrophobic character, the water slab between the membranes at small separations becomes unstable and decomposes into droplets and menisci that bridge both surfaces (as shown in the figure).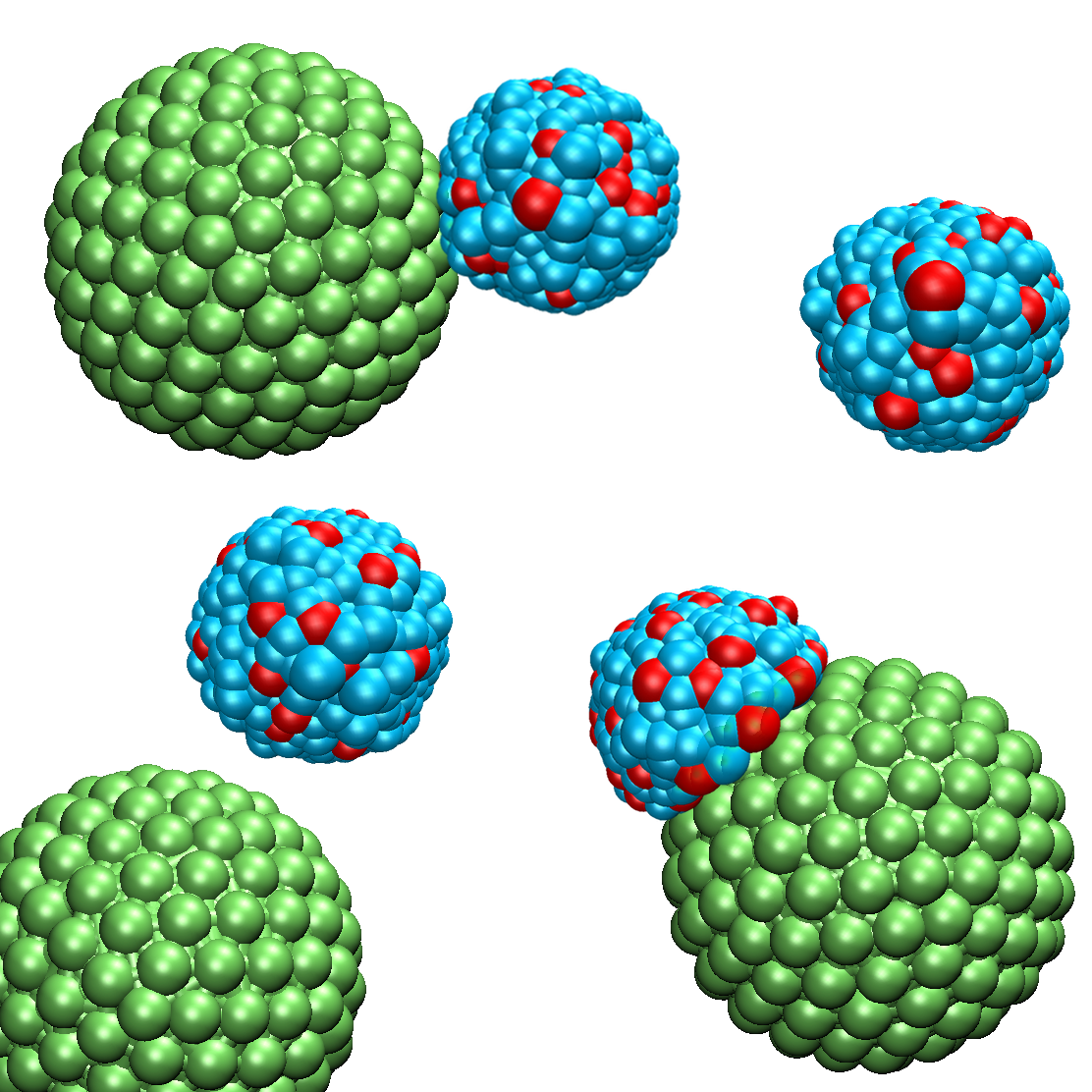 Multivalency is an important design principle in nature. It plays a key-role in a wide range of chemical, biological and medical systems, such as hormone binding or virus-cell interactions. The basic principle of multivalency is the simultaneous binding of several relatively weak binding partners, in order to strengthen the over-all interaction. For the development of new drugs targeting multivalent receptors it crucial to optimize the design of suitable ligands. In our project we use a multiscale approach to describe multivalent interactions theoretically. Based on the investigation of individual ligand-receptor binding sides on the atomistic level, by molecular dynamic simulations, a gorse grained model is developed that allows to determine the binding constant of multivalent ligands. Our aim is to derive general rules for the optimal design of multivalent ligands.
Furthermore, we examine virus-inhibition-assays, for example for the influenca virus. We will focus on the binding of particles, ranging in size between a few up to hundred nanometers, which are covered with small ligands. Using coarse grained simulations the importance of particle clustering, geometry and flexibility will be studied.