A new collaborative research project in the German-Swedish Röntgen-Angström Cluster has now been granted by the Bundesministerium für Bildung und Wissenschaft (BMBF) and the Vetenskapsradet (VR):
Novel X-ray crystallography and spectroscopy methods to unravel dimetal-carboxylate catalysis in enzymes and biomimetic materials.
The project is carried out in a collaboration between the research groups of M. Haumann (Berlin, Chair), Martin Högbom (Stockholm), Sascha Ott (Uppsala), and Volker Schünemann (Kaiserslautern) and has been chosen for funding among 7 out of 49 applications for a 4 years period starting in 2014.
We are looking for talented and motivated postdocs and Ph.D students, who may contact us if interested to work with advanced synchrotron techniques on facinating biophysical topics. 
More information will be provided on this website soon.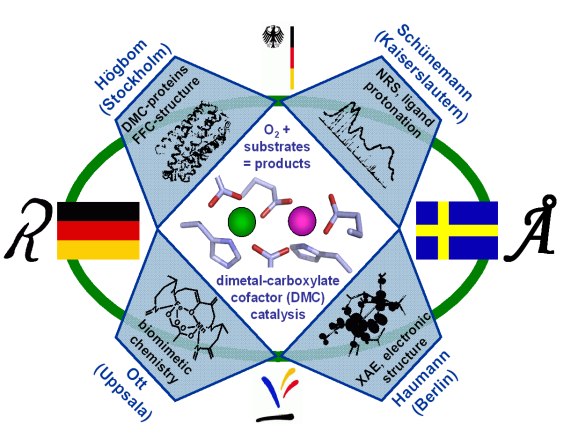 .