Gaussmeter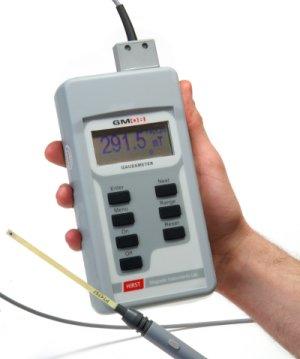 Both the GM07 / 08 Gaussmeters are hand held devises, easily transported to various locations in a factory environment. Each unit is controlled by a simple menu and is supplied with a thin semi-flexible Transverse Probe suitable for all but the very smallest of applications.
The GM07 / 08 incorporates an analogue peak detector for the DC and AC peak functions. This, coupled with the microprocessor operation means that fast response is possible with digital stability (fast pulse / no drop in readings).
The GM07 offers excellent performance and value for money as an instrument  that can meet  a wide range of magnetic measurement applications.